FIXING door Architrave with HB42 Grab Adhesive
Step 1: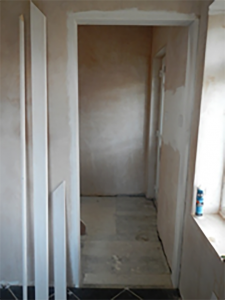 Architrave is cut to size and primed ready to fit. Note that one side is very close to a wall so I used a quadrant instead.
Step 2: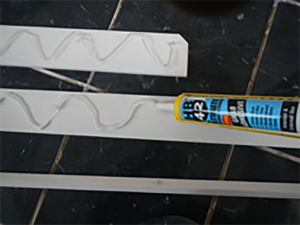 Apply HB42 Grab Adhesive to the Architrave. I tend to use a wavy line technique.
Step 3: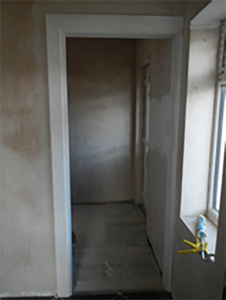 Position the Architrave and press into place. The advantage of using the Grab Adhesive over nails is that fine adjustments can be made, essential when positioning architrave. The Adhesive 'grabs' the timber and holds it firmly in place until set.
Step 4: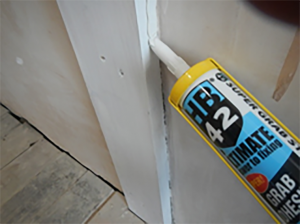 When fixing the quadrant, it was easier to apply the Grab Adhesive to the door frame.
Step 5: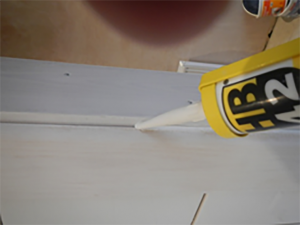 Allow the adhesive to cure then fill any gaps with HB42 Sealant & Adhesive. Tip: I use a pushing action to ensure the sealant is pushed into the gap.
Step 6:
Smooth off with a finger smeared with washing-up liquid. Architrave and Door Frame are now ready for final painting as required.
Notes:
#1 Decorators caulk could be used to gap fill but I prefer HB42 Adhesive and Sealant as it bonds more firmly and is still easily over painted.
Find your nearest stockist 
HB42 is a registered Trade Mark. A Premium Range of 'Professional Trade' Products. Privately owned and distributed by Hilton Banks Limited with central offices and warehousing in Middlesex, UK.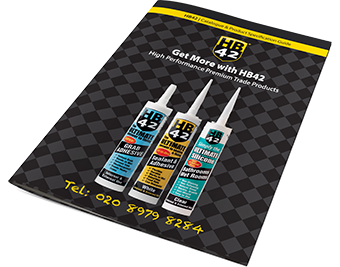 Sign-up
for the latest HB42 Offers, News & Trade Show Info

HB42 is an Approved
BMF Member