Filling in the cracks
Repairing a Cracked Concrete Windowsill Using HB42 'All-in-One' Le Filla
A friend of mine has a concrete bay windowsill with 4 cracks in it. They had been filled by a variety of methods over the years; sand and cement, silicone, unidentified soft and powdery filler…None of the methods were working. I decided to start again with HB42 Le Filla.
Step 1: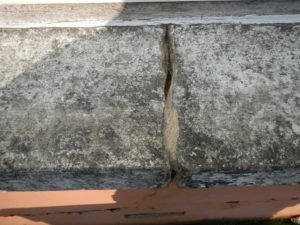 Old filler removed down to a stable base and cracks cleaned up and ready for filling.
Step 2: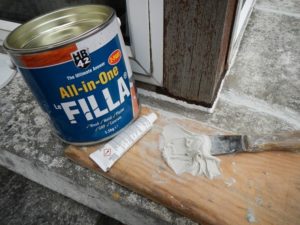 Mix Le Filla. Tip: Mix Le Filla in 2 separate batches. If I had mixed up just 1 batch it would have started curing long before I had completed filling them all.
Step 3: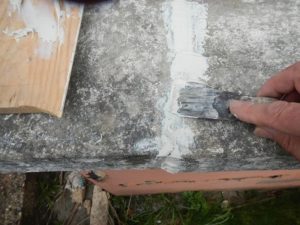 Apply Le Filla. To limit effort in removing unwanted filler it's important to only apply to the level needed and clean-up surrounding area before it cures.
Step 4: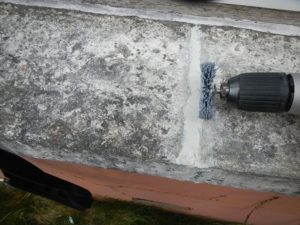 Remove excess Le Filla from the surrounding area. Tip: I found this abrasive brush very useful in removing not quite cured filler from surrounding area. I also used it to clean-up the cracks before filling.
Step 5: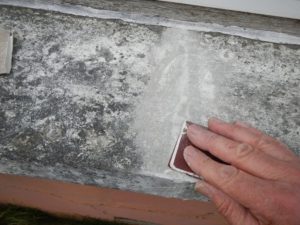 Sanding down after Le Filla has just cured.
All 4 cracks filled, sanded and ready for painting.
End.
Find your nearest stockist 
HB42 is a registered Trade Mark. A Premium Range of 'Professional Trade' Products. Privately owned and distributed by Hilton Banks Limited with central offices and warehousing in Middlesex, UK.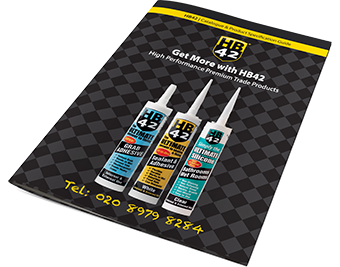 Sign-up
for the latest HB42 Offers, News & Trade Show Info

HB42 is an Approved
BMF Member