Privacy Policy
HB42 Privacy Policy
Respecting your privacy is essential to us. This is why we set out our full Privacy Policy below.
OUR PRIVACY PROMISE
1)     We respect your privacy and your choices.
2)     We will not send you marketing communications unless you have asked us to. You can change your mind at any time.
3)     We will never sell your personal data.
4)     We are committed to keeping your personal data safe and secure. This includes only working with trusted payment partners.
5)     We are committed to being open and transparent about how we use your personal data.
6)     We will not use your personal data in ways that we have not told you about.
7)     We respect your rights, and will always try to accommodate your requests as far as is possible, in line with our own legal and operational responsibilities.
Below we set out what types of personal data we might collect or hold about you, how we use it, who we share it with, how we protect it and keep it secure, and your rights around your personal data.
WHO WE ARE
HB42 is a registered brand of Hilton Banks Ltd who is responsible for the personal data that you share with us. When we say "Hilton Banks", "us", "our" or "we", this is who we are referring to. Hilton Banks Ltd is the "data controller" for the purposes of applicable data protection laws.
 WHAT IS PERSONAL DATA?
"Personal data" means any information or pieces of information that could identify you directly. This includes things like email/home addresses/Telephone number.
How do we collect or receive your personal data?
We collect or receive personal data via www.hb42.co.uk when you sign up to our newsletter, follow us on social media and sometimes by telephone and email when you contact us. Sometimes we collect it using cookies to understand how you use our websites. Review our Cookie Policy here.
What personal data may we hold about you?
* First name and surname;
* Email address;
* Phone number;
* Address
How and why we may use it?
* So you can receive marketing communications from us
* To send samples to you
* Reply to you regarding a stockist enquiry
* Reply to you regarding a competition
* Manage any dispute relating to a product purchase
Your rights and choices
You have a right to obtain the data that we have on file for you at any time and if you have any complaints about how we handle your data, please contact team@hb42.co.uk
Find your nearest stockist 
HB42 is a registered Trade Mark. A Premium Range of 'Professional Trade' Products. Privately owned and distributed by Hilton Banks Limited with central offices and warehousing in Middlesex, UK.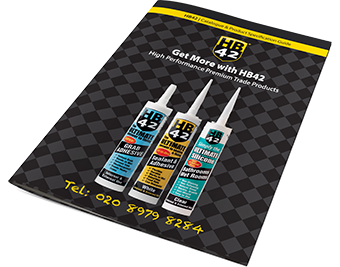 Sign-up
for the latest HB42 Offers, News & Trade Show Info