UK Construction Week 2019
We will be exhibiting at UK Construction Week for the second year, 8th to the 10th October 2019, NEC, Birmingham. We will be showing off our popular HB42 range of sealants and adhesives, in particular our NEW HB42 All-in-One Eco-Foils, which we're pleased to say has been chosen by the show organisers as part of the Innovation Zone.

With the impact on the environment in mind, we launched the All-in-One Sealant and Adhesive in 400ml foils, available in White & Black. HB42 'Eco-Foil' removes the environmental problem of disposing of the single use plastic cartridge normally associated with sealants and other similar products.The 400ml foils produce 95% less waste than the single use tubes and users get 38% more sealant than in the 290ml plastic tube – same great product, just more of it!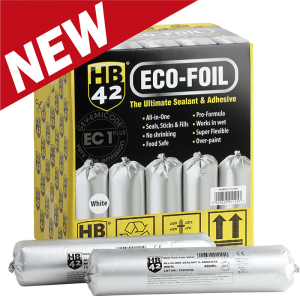 We are pleased to be appearing at UK Construction Week and we look forward to welcoming as many people as possible on our stand!
Register to attend for FREE here