HB42® Launch New & Improved Products at the Build Show!
HB42 Sealant & Adhesive Range will be exhibiting for the first time at the Build Show, 9th-11th October at Birmingham NEC. HB42 will be launching two new products: HB42 Sealant & Adhesive Invisible and New Improved HB42 Grab Adhesive.
HB42 Invisible
New HB42 Sealant & Adhesive Invisible cures crystal clear and is non-staining; ideal for glass, mirrors, natural stone, granite & marble and all joining work where transparency is necessary. Due to its UV resistance, HB42 Invisible will not yellow over time.
New Improved HB42 Grab Adhesive
Customers will find the New Formula of the Grab Adhesive provides an even stronger bond as well as being easier to flow from the tube. On testing, new HB42 Grab Adhesive reported no slippage on a vertical surface for instant bonding of glass, wood, enamel, painted surfaces, plasterboard, coated metals, concrete, plastics, PVCu, stainless steel and much more.
Live Product demonstrations
Interactive and "real life" demonstrations of all products in the HB42 range will be taking place on stand B80, including the best-selling Sealant & Adhesive, Grab Adhesive, "Simply the Ultimate" Silicones, Fillers and much more.
Scarlet McAleese-Banks, HB42's Marketing Director, says: "We are committed to expanding the range each year with only products that meet the high performance standards of the Construction, Building & Decorating trade, and we hope visitors will see this commitment to quality through our live demonstrations".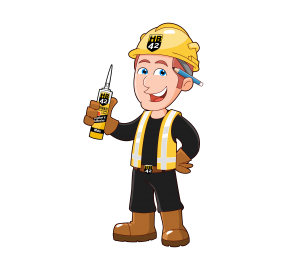 Competition
HB42® will also be introducing their new mascot Fixer Fred® at the Build Show. Scarlet says: "Fixer Fred is a highly skilled, friendly builder that uses HB42 All-in-One Sealant & Adhesive for all manner of sealing, fixing and filling jobs. It is a must-have item in his tool box".
Fixer Fred will be located on Stand B80 on the BMF Pavilion. Visitors will be encouraged to take a selfie with him and upload their photo to Facebook and Twitter to enter the competition. Winners picked at random will receive one of three bundles of HB42 Goodies, worth £100!